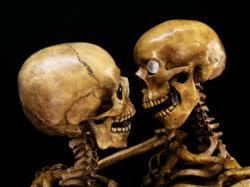 synthesis of love, death and raw power....eternal lovers!
the sky had faded into the blue dusk
and deepened into twilight
revealing beautiful stars one by one;
I pulled open the door, looked up
a glimpse of such a beauty sells dreams
I started walking towards the sea shore
darkness fell, the moon rose over the horizon;
some nervous birds leaped in fright
descended again, squawked and took off once more
My eyes kept watching the restless moon
dipping, moving, bobbing along the sky...
A wolf howled at a distance disturbing my peace of mind
relishing the solitariness and privacy..
of the magical, hazy, powdery night
Suddenly the wind dropped; crickets fell silent
before I could revel in the night's silence
I spotted a couple
on the farthest tip of the beach
Two dots were moving along imperceptibly in the dark
somehow I was elated by the blindness; it teased me
The moon emerged from behind
Silhouetted the couple against the velvety blue night
The man gathered the lady in his arms
Led her head against his chest
Locked his lips against her, and stepped aside
The night cloaked the twosome…
The wind had a raw edge to it
The lovers loping by the sea shore, somehow
held me captive; I kept moving on...
the two clumsy figures kept shuffling, ebbing
in front of me for sometime;
it was more than real, that I'd longed to see
I called out, the lady swung around
it was the creepiest black face, nothing less than a burned-out crater
she started taking her limbs off, like her clothes;
giggled and turned green in the color of seawater
I was flabbergasted….I heard the wind howling
her laughter reverberated…; I started chasing her like mad
then stumbled upon something that froze me!
Two skeletons, with blood spilling out of their mouths
were gazing at me; suddenly
their lips twitched;
murmured something
dashed into the water, disappeared...
I swerved …
panicked, and tried to scream....
but something was squeezing my throat
… it didn't let my voice emerge
I dropped down, recounting history pages
----------------- not long ago,
a couple had committed suicide
I fainted...
the waves pulled me out of my slumber
I couldn't recall, how I got down into the water
and was wading, slithering, slipping in there for so long
A buoy spilled a blue ethereal light into the darkness,
eerily dappled across the frothy waves,
and lit the figures again in front of my eyes
I became aware, that I had entered their restricted orbit,
they were w
ooing me into disillusionment
It felt odd being alone this time,
battling the forces of evil ain't easy
But, I lingered at the threshold
to understand the true colors of the chameleons!