This post has been published by me as a part of the Blog-a-Ton 42; the forty-second edition of the online marathon of Bloggers; where we decide and we write. To be part of the next edition, visit and start following Blog-a-Ton. The theme for the month is "COLOR"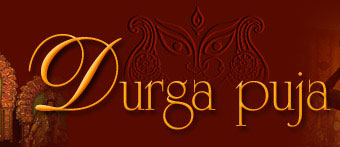 HAPPY DURGA PUJA TO ALL.....
Like other religious festivals, during Durga Pujas, it's a custom to wear new clothes on all the five days of the celebrations. And ethnic wear is the chosen dress code; women, men and children strut traditional stuff while pandal (marquee) hopping.
For me, the big autumn festival brings in a ritual of buying fresh new saris. Baby pink with a paisley grey anchal; lime green and purple stripes on cream; black with a broad, resplendent silver grainy border; ice blue with a slate grey border and buti- ah, the color choice is infinite, and it is amazing how beautifully they are evenly distributed over the 6 yard materials.
My husband is an introvert, and less demonstrative of his preferences.
I thought, he never cared much about what I wore, how I dressed... until one day, he casually said,' I like you in blue'... It felt wonderful, and without thinking twice, I decided to buy a blue sari for this puja. He also refrained from saying anything more, letting me take my own time, my own way of coming to decision.
So, this time,when I was going for my sari shopping, I urged him to come along- (knowing fully well how impatient he is, when it comes to shopping; his literary temperament makes him stifle in such shopping environments.) But, then
with time and age, people do adjust and change.A meaningful glance, a casual nod of the head, a familiar smile this time made it more convincing!
In the shop, I kept digging for a blue sari and in fact, drove the salesman mad, for he had all shades but the one (blue) I wanted…He was pressing the other colors on me, talking glibly the way all salesman do.
Soon, many colors mounted up on the counter. Dear hubby was amazingly patient, everything was fair in the wake of a festive mood, I thought.
But, good phases are generally too good to last. I never realized that he was slowly getting miffed, till I heard him yelling,' how does it matter what color is it..? Better hurry up...'
Startled, I looked at him- his eyebrows were drawn together in an irritated frown. I realized, he had completely forgotten about that 'blue' statement…!
The jab was too sharp, too sudden, too swift to upset any plan. The words sounded menacing, The same voice, like a warning, doused all the excitement instantly...
But then, I knew, that he cared for me, so I let go...and caught up in the gravity of what I was doing...and it was so easy to let the colors/choice drift without any weight of approval or disapproval.
--
---
Every Bengali woman, no matter her age, social status, economic prowess, owns a traditional Korial and/or Garad saree. And this truth is in no way exaggerated!! Both these are accepted as 'pure' clothing item fit to be worn on religious and auspicious occasions.
I feel, Durga Puja is the time, to put away chiffons and georgettes, and adorn the trendy white sari with the traditional red border. And a dazzle of zari adds more verve to this sari. The color red has a symbolic meaning; it stands for love, passion, and bliss. The color white stands for purity and peace…
So, eventually I got a traditional 'Garad' sari for myself.
**The Garad ('Garad' means white and refers to silk that has not been dyed) silk saree is one, in which the silk fibres are woven extremely close together. This saree is distinguished by a red border on a white/off-white background. Additionally, evenly spaced embroidered motifs (primarily paisleys) are weaved on the pallav of the saree.**
Traditional Bengal Garad Sari~
The fellow Blog-a-Tonics who took part in this Blog-a-Ton and links to their respective posts can be checked here. To be part of the next edition, visit and start following Blog-a-Ton. Participation Count: 14